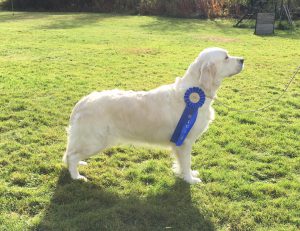 Cream of Pearl's Queen of Heart "Nellie"

Född: 20150107

Regg:nr: 13033/2015

HD: A/A ED: UA

Eyes: UA d. 2/8-16 GR_PRA 1 och 2 Free

CK och 4:e Bästa tik Internationell utställning

Kritik: Utmärkta proportioner. Feminint uttryck. Bra topline. Rör sig bra.

BIR som unghund samt BIG 2 Ljungby inoff.

Kritik: Utm. vacker tik. Rastypiskt huvud o uttryck, Fint ansatta öron. Vackra ögon med fint pigment. Bra förhållande huvud-nos. Perfekt bett. Bra hals o sluttande skuldra. Bra förbröst raka fina ben.Bra kropp o längd. Bra kors, ansatt svans av bra längd. Muskulös. välvinklad. päls & färg OK. Rör sig fint. välvisad.

Många HP på Inoff utställningar

BIR valp 6-9 månader samt BIG 3

BIM 6-9 månader

2:a av 5 tikvalpar med HP i valpklass 4-6 mån

Utställning Bilder
Nellie samäger vi med Elin och familjen Hultén. Elin ställer Nellie själv och är riktigt duktig.
Stamtavla
SE VCH Union-Dreams Purpel Dreams

HD A/A, ED 0/0 2 x CERT

Chavenis Magic Passion

HD B/B, ED 0/0 1 CERT

WW-01 IntuCh, Lu Ch, Fr Ch, De Ch

Paudell Pure Passion

HD A/A

Sjakk Matt Av Vervik

HD B/B

Union-Dreams Red Bead

HD B/B, ED 0/0

Gold Hunter's Lady Killer

HD A/A, ED 0/0

Union-Dreams Blue Moon

HD B/B, ED 0/0

SE U(U)CH, SE VCH

Pebishar's Feel My Love

HD A/A , ED 0/0 CACIB x 2

NO UCH, SE U(u)CH

Pebishar's Celebration

HD A/A, ED 0/0

NordCh, IntuCh Rossmix No Regrets

HD B/B, ED 0/0

Rossmix Sunshine of my Heart

HD A/A, ED 0/0

NO UCH Pebishar's Madelen

HD A/A

Pebishar's Sir Anthony

HD A/A/, ED 0/0

Pebishar's Andrine

HD A/A